I wish. I am about ready to strangle a couple of girls sitting behind me - the littlest one is howling that she is finished ... finished howling that is. Because I turned off the TV because they wouldn't stop bickering. Lucky DH sleeping until 9.00am because he can ignore all other noises, lucky DH watching soccer so the girls vacate that room and come and annoy me, lucky DH gone the other five days of the week, and not having to put up with that every day! Right. Vent over - sometimes you've just got to get it out ;)
...
Thank you for ALL the comments on Rose Arbour - wow! it is so nice to get so many compliments ... I love the blogging world.
...
strangling is still sounding like a good option ... deeeeep breaths ...
...
Another small finish -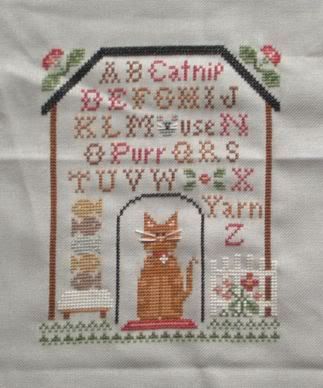 Little House Needleworks - Kitty Cottage Sampler
Stitched on 27ct "Clay" evenweave


...

Today I've got the dreaded Soccer Club AGM - this is the worst part of my job, I hate speaking in front of people, and I hate being responsible for all that money - so today I get to present the accounts, a combination of both things - oh yay ... all I can say is at least by the end of the day it will be over!

...

I'm having paper thrown at me now ... more deeeeeeep breaths ...

...

and later I get to choose between stitching Faery Tales as per my written down rotation for February, or October Skye Sampler so I can finish it ... as per my February goals - oh, decisions, decisions ... maybe I'll see how the AGM goes first! LOL

...

and finally I have a little girl on my knee having a cuddle, maybe she got the message I mean business? at last? ... until next time, anyway ;)