I did it! I finished her! Wahoooooo! ... yep, I am that excited. I can't remember when I started stitching her, but I suspect during 2002, at a guess.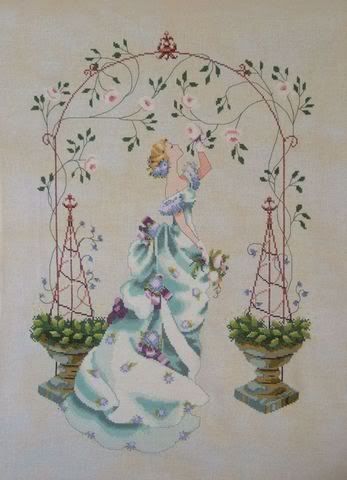 Rose Arbour ~ Mirabilia
Stitched on Blended Needle "Parchment" 28ct Evenweave
It's funny, when I started this I still hadn't worked out what everybody meant when they talked about starting on the vertical thread - so it is all stitched with each cross starting from the horizontal thread - gosh it is awful to stitch like that, the thread often slipped underneath the weave of the fabric (it's a pretty loose fabric anyway) and I can tell by looking at it that my crosses just don't look "right". We live and learn, and grow - for me, mostly thanks to the internet!
I'm at work right now, and it is VERY quiet, so I'm going to pop down to the carpark and get my soccer/cricket work out of the car, do some of that - and then stitch ... life is good :)